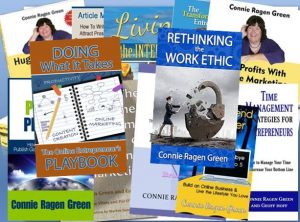 When I first came online and started a dozen blogs I made the mistake of thinking that I could write on a variety of topics, most of which I knew very little about from personal experience. Writing online is no different from any other type of writing in that you will do best when writing about what you already know well.
Writing coach Suzanne Lieurance discusses this topic in her recent article, entitled Write What You Know. In it she says:
"If I Can Do This, You Can Do This!

Ever since I left the classroom after being a full-time teacher for many years, I've been making a living writing about all sorts of things. The best part is, most of these things are based on my own life experiences.

For example, when I was a child growing up in the South, every day I saw my grandmother pack my grandfather's lunch for work, and that lunch always included a Moon Pie. Years later, I thought about those Moon Pies and sold an article about the history of the Moon Pie to an educational publisher."
This reminded me not only of my days of eating Moon Pies but also the idea that we all know so many things based on our life experiences that make excellent and enjoyable reading for others. This is what I recommend if you are struggling with writing online to start your business…
Spend thirty minutes each day writing about anything you know about. This can be current events, stories from your childhood, or something related to a job, vacation, or other experience you have had. This is non-fiction writing, so keep it factual and interesting. Over time, make a point in your writing that is related to what you will be writing about for your online business. I have said for many years that I can turn any topic or situation into a marketing lesson, and this holds true to this day.
Imagine how easily people will get to know, like, and trust you if you continue to share stories with them about subjects and situations you know well. I still enjoy telling stories from my days as a classroom teacher and while I was in real estate. Remind to tell you about the time I was alone on the yard with over a hundred elementary school students when a little girl had a grand mal seizure. Or the time I hosted an open house in an empty home and two escaped convicts ran through the back yard. You just can't make this stuff up…
Take a look at Book Launch Booster Rockets to decide whether this strategy is the right one for you as you begin writing and marketing your book.